Great Tips and Tricks for Your New Google Pixel 2
Ever since the launch of the Pixel 2 by Google, every new user is going gaga over its functionality. And why wouldn't they? It is an elegant device right from the Pixel launcher to the stock of the Oreo icon pack. There's barely anything worth not liking. It is smart and sophisticated.
As good as it looks; it can always be made to look a little better.  Here are a few tips and tricks to whiz your way around its appearance.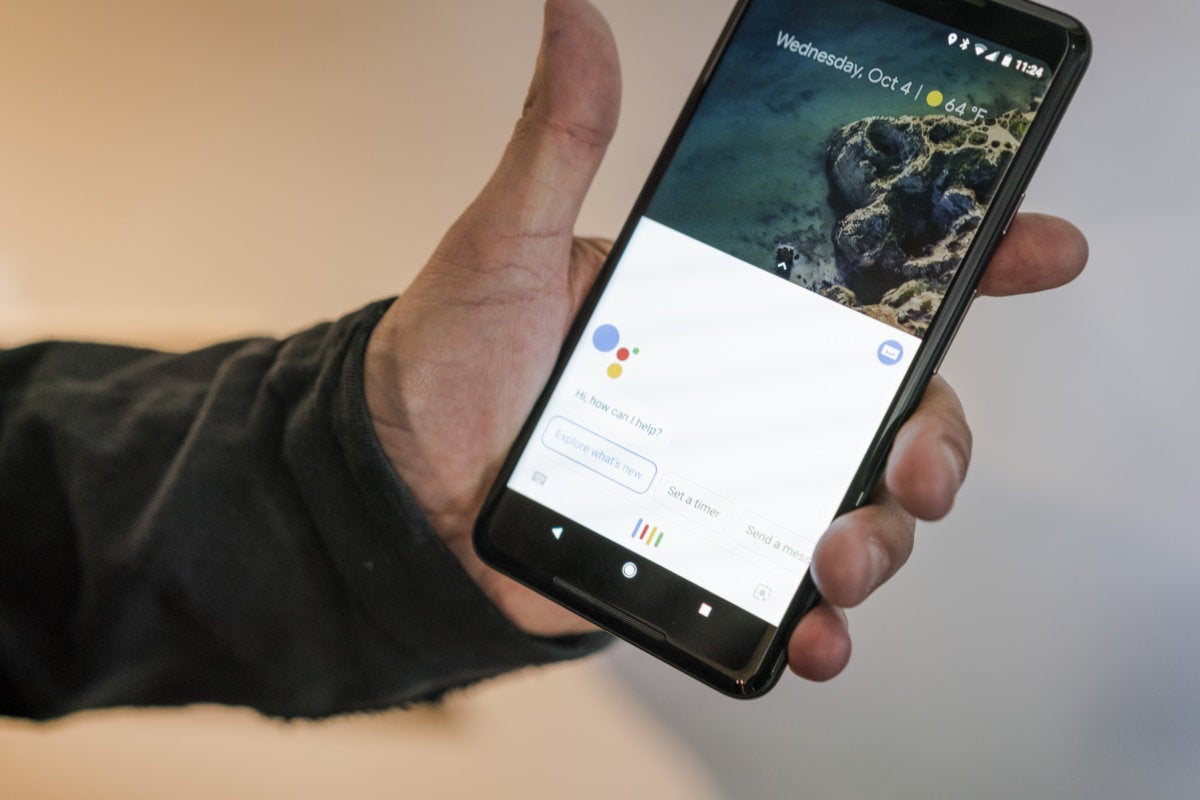 Pick a live wallpaper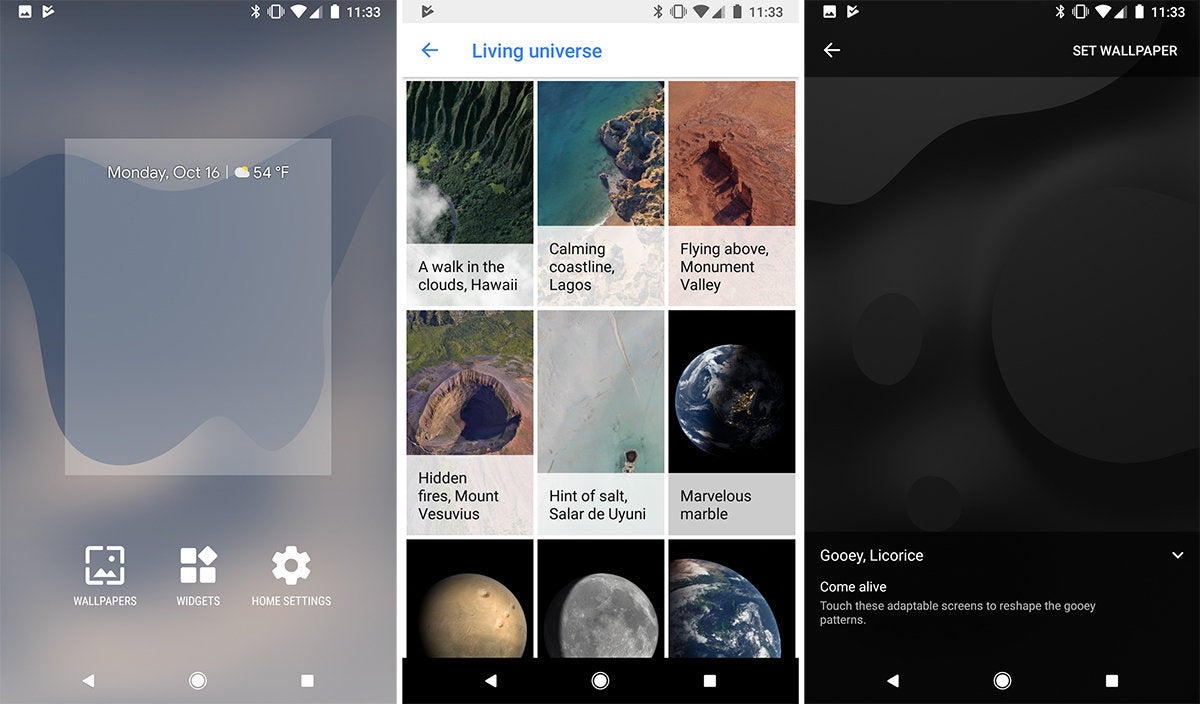 Pixel came up with the Live Earth wallpapers last year to give the home screen a serene 3D feel. But like any tech is bound to get upgraded, so have the wallpapers. They now have gone beyond parallax effects.
To add to it, there is a set of 'Come alive' wallpapers that feature interactive designs. Some let you manipulative shapes with your fingers, while others provide flashes of color when touched.
Bring back double-tap to check and lift to check
The Pixel 2 brings with it and always-on ambient display that has sure been welcomed by a lot of users. However, if you do not like it, the old way of doing things is still intact. You can adjust the ambient display by entering the display part in the settings menu.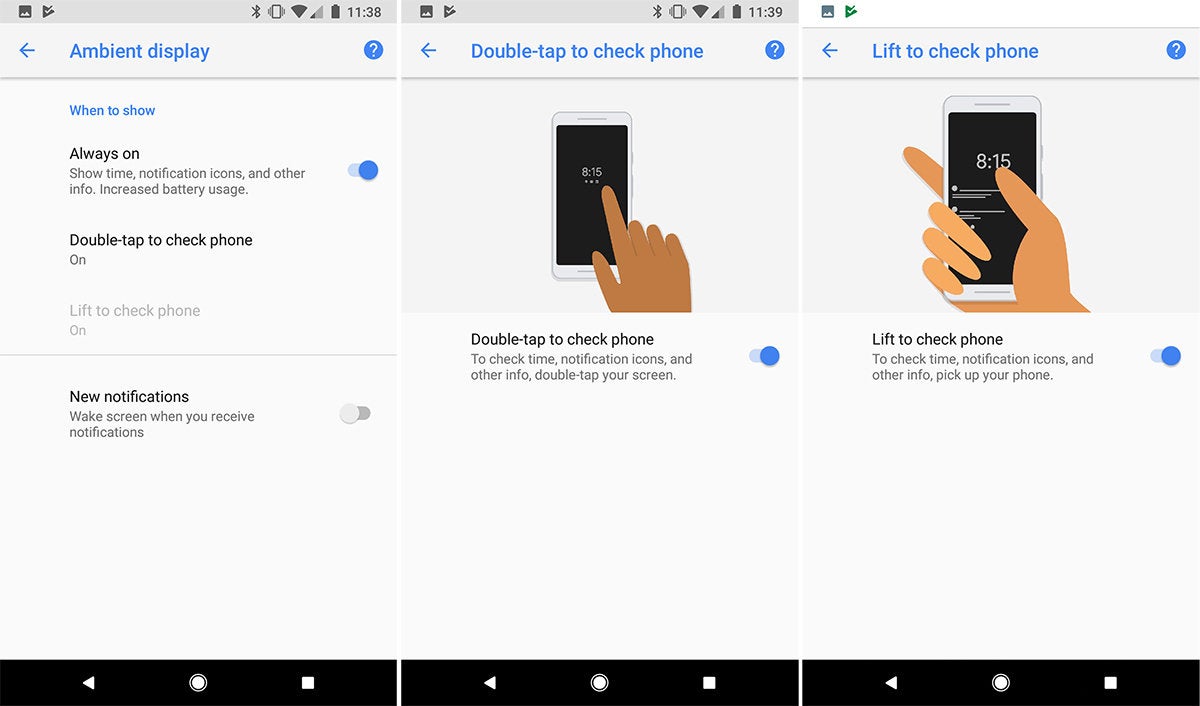 The double-tap option will light up the screen when you double-tap on the ambient display (or illuminates the ambient display if it's not set to always be on).
Turn on vivid colors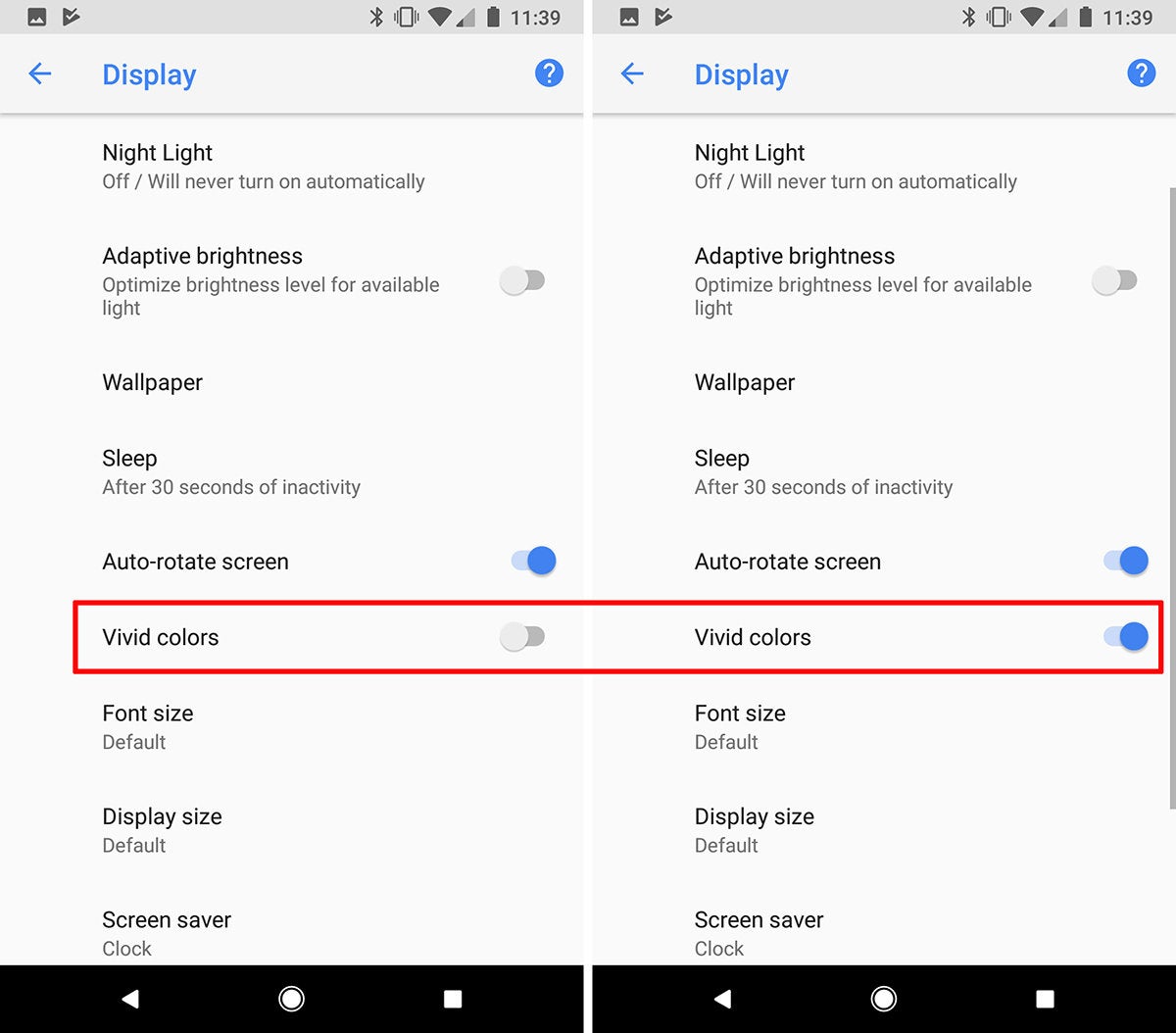 The Pixel 2 doesn't offer the kind of color customization that the Galaxy Note 8 or LG V30 do, but there is one tweak you can make. Inside the Advanced menu's Display settings, you'll find a Vivid colors toggle, which will change the display profile to give your display a little more pop.
Show the battery percentage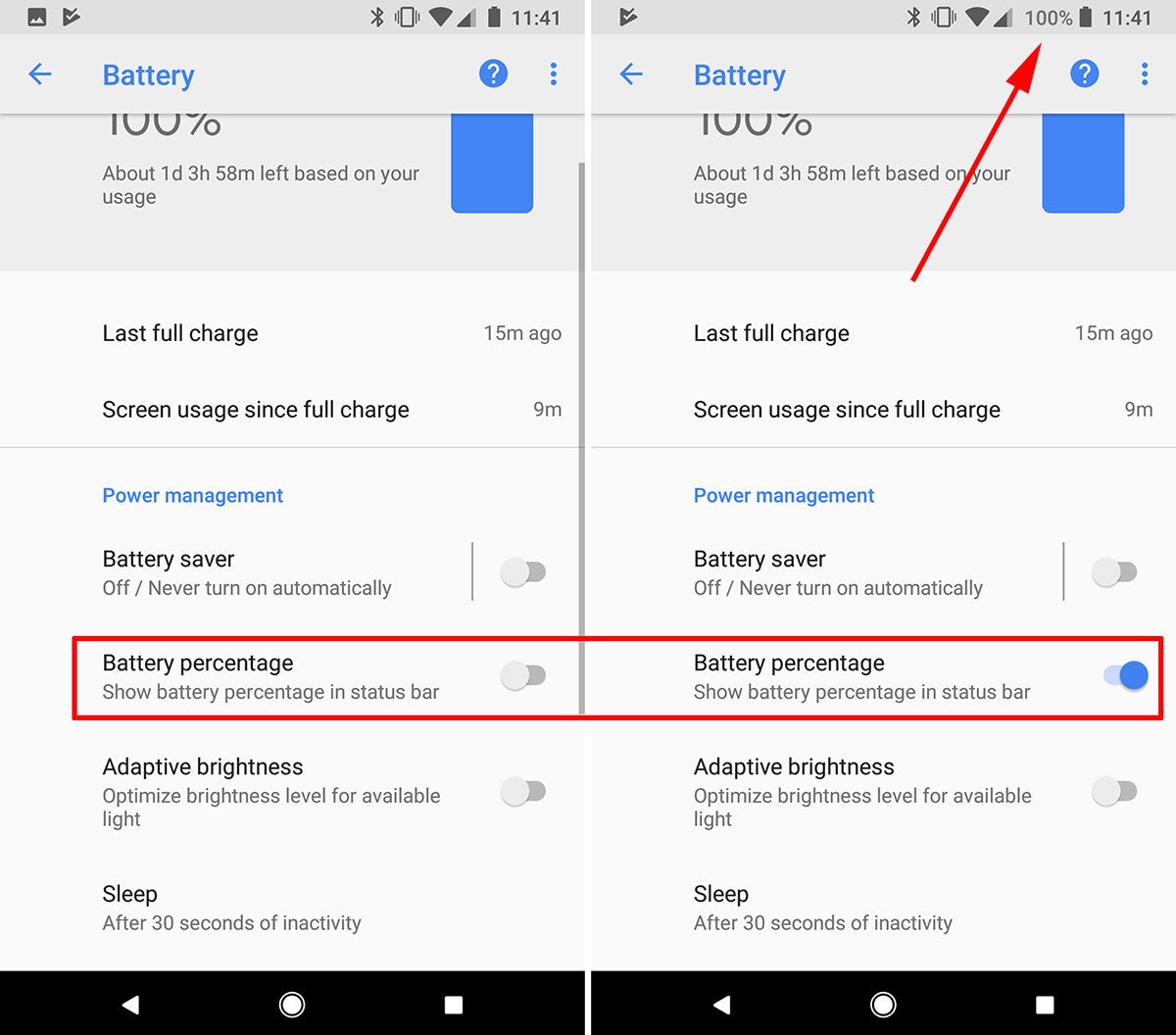 It's always been impossible to tell exactly how much battery you have left by viewing the tiny icon in the status bar. With Android Oreo on the Pixel 2, Google lets you add the precise battery percentage next to the icon, so you can know exactly when battery saver is about to turn on (or brag to your friends about how long it lasts). Just head over to the settings and flip on the Battery percentage switch.
Use the power button to end a call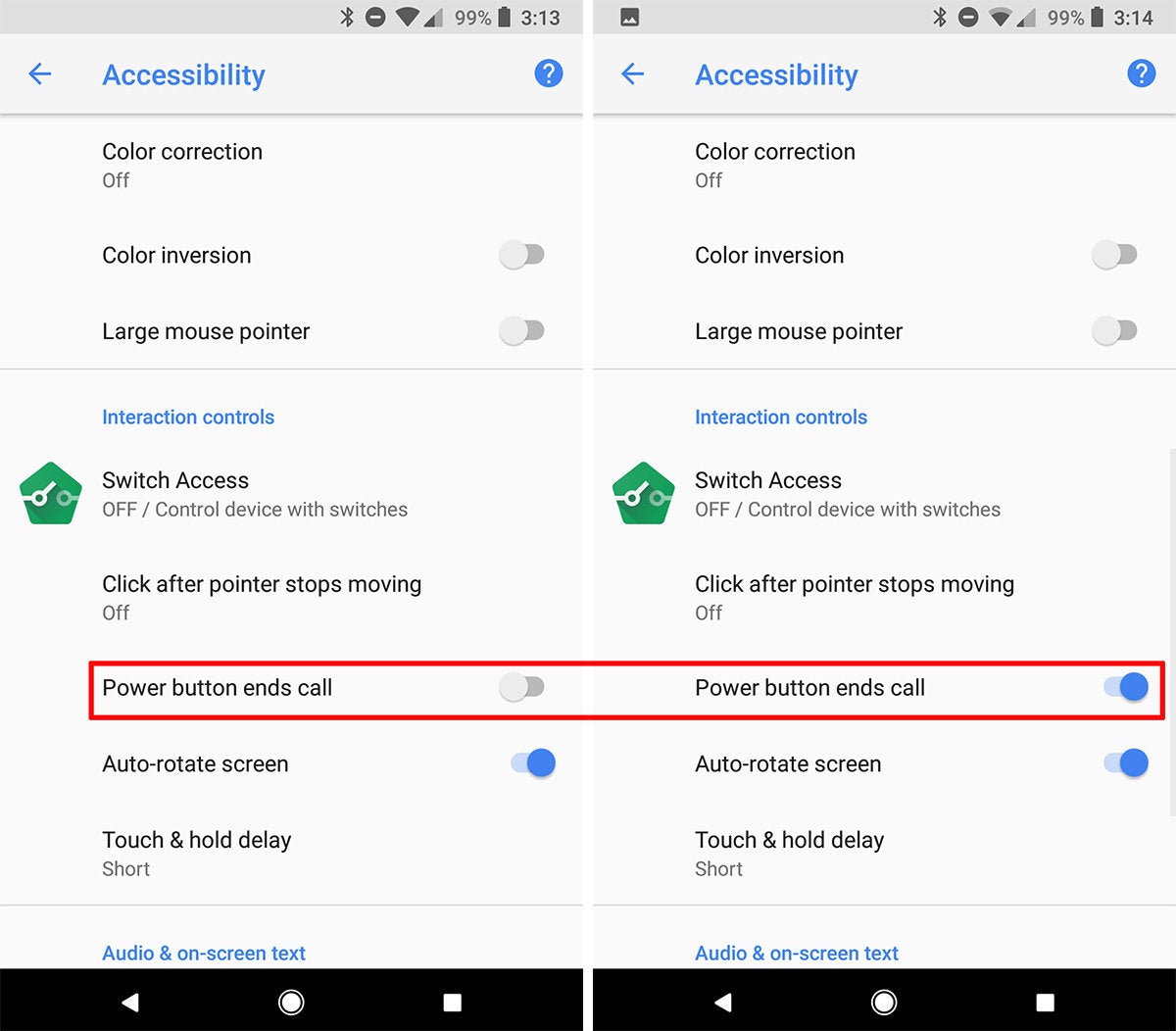 The Android Accessibility settings include all sorts of useful tricks for vision-impaired Pixel 2 users, but there's one option we can all benefit from: Power button ends call. Flip this switch and you can press the power button to end a call—especially handy if one hand isn't free.
View the home screen in landscape mode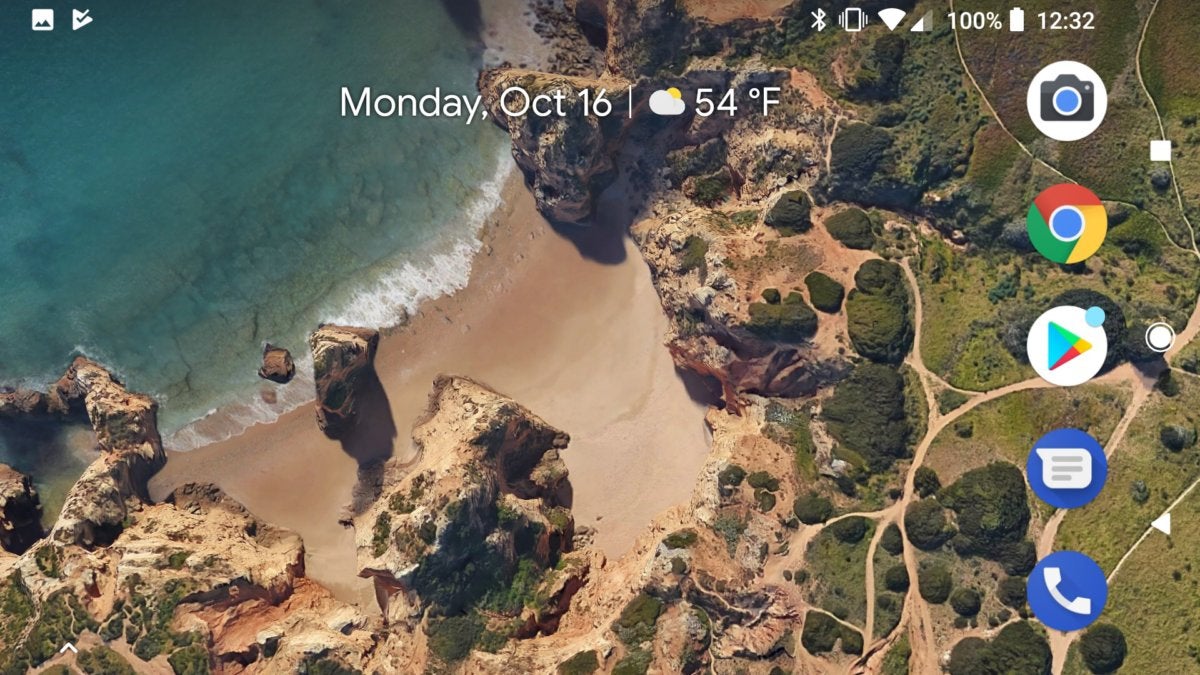 Most Android phones need to be in portrait mode when looking at the home screen, making for some awkward fumbling when running landscape apps. But that's not the case with the Pixel 2. Inside the Home Settings (which can be accessed by pressing down on the screen and tapping the gear icon), you'll see an Allow Home screen rotation toggle. Toggle it on, and your icons and widgets will rotate when you turn your phone. One caveat: You'll lose your Google search bar when in landscape mode.
Google Adds Two New Features In Its iOS Search Engine
Google likewise included two different highlights that incorporate its web index into iOS in new ways. One is another offer sheet choice – now, when you share a page from Safari with Google, it will likewise indicate you proposals for related substance. A comparable feature launched last year in the Google Search application, however, is annoying as it flies up finished the content when you achieve the base of the page. With the new Share with Google usefulness, it bodes well as the thought is that you could move from a website page in Safari specifically into an arrangement of Google indexed lists on the theme/
Likewise new is bolster for simplified on iPad. You can utilise the component to move content, pictures, and connections to and from the Google application, share articles from Google into iMessage or spare them into Notes for later perusing.
All highlights are accessible today, yet the iMessage augmentation is as of now U.S.- just, Google says.
It additionally gives Google another approach to achieve clients on iOS, notwithstanding when they're not in Google's application itself. This is essential because Google's traffic procurement costs have been moving because of the move to cell phones, where forms and colleagues like Siri serve up a large number of the appropriate responses clients once swung to Google for, when on the work area. It likewise needs to pay Apple billions to be the default internet searcher on iOS.
The application, like other iMessage expansions, is accessible by tapping the iMessage applications cabinet in iMessage, at that point looking over to the Google application symbol. (If you have many iMessage applications as of now introduced, it might be concealed under "Additional.")
The iMessage augmentation is one of three new highlights Google declared today for iOS clients. Notwithstanding, it has been accessible in the Google application since February 7, 2018, as per Sensor Tower, demonstrating to a higher degree a delicate dispatch.
A Fourth Type of Human Fuel Beyond Carbs, Fats, and Protein Exists, Scientists Say
One drink of the stuff and I'd had enough. The dry, scentless liquid represented a flavour like a clean nail remover – yet I was told it offered single focal points for my body, so I chugged away, if reasonably attentively.
The little plastic container contained unadulterated ketone ester, a substance that a gathering of scientists and business visionaries at the San Francisco-based startup HVMN are induced can supercharge the body in a way that no other execution thing has beforehand.
"It's not fat, it's not a protein, it's not a carb, yet rather your body gets fuel from it," Geoffrey Woo, HVMN's prime supporter and CEO, uncovered to Business Insider in November when the thing was first made available to general society.
Not in the least like caffeine, Ketone isn't a stimulant; and not at all like a granola bar, it isn't a wellspring of sugars. Or maybe, it's beta-hydroxybutyrate, one of the substances the body ordinarily conveys when it is fasting or starving. Ingesting the material direct gives a burst of imperativeness that could have once helped our ancestors survive long extends without sustenance.
In the occasion that ingested before a high-carb dinner, Ketone moreover appears to keep the body's glucose levels from taking off unsafely high.
Ketones may help settle glucose
This glucose effect is HVMN's latest region of research. In another paper, a segment of the masters working with Woo found that a ketone drink (HVMN just calls its refreshment "Ketone") could genuinely help reduce one's glucose levels.
In people with diabetes, high glucose can be dangerous and even lethal. In any case, specialists are adjusting more about the association between glucose control and execution, weight upkeep, and general thriving in non-diabetics, also.
For their examination, conveyed in February in the Journal of Physiology, the HVMN-collaborated experts worked with 20 healthy men and women developed 18 to 35 through the traverse of two mornings to see how drinking Ketone may influence their glucose levels. The individuals fasted overnight both days, by then half drank the HVMN Ketone liquid, and the other half picked up a power drink that also tasted shocking. Following thirty minutes, the experts had everyone eat up a sugary bottle to see how the Ketone confirmation influenced their glucose levels. On the second morning, the social occasions swapped – half were given the Ketone while the other half were given the control drink.
"It made for fascinating mornings seeing how the individuals would respond to the pith of their drinks!" Jonathan Little, an associate educator at the University of British Columbia and the lead maker on the paper, said in a declaration.
The examination exhibited checked differences between the volunteers who drank the Ketone and the people who drank the phoney treatment. Instead of spiking naturally, the glucose levels of the Ketone purchasers remained for the most part low.
Google Pixel 2 – The Flip Switch!
Exactly when Google Launched its Pixel 2 lead phone a year prior, it included something of a stun: A co-processor called Pixel Visual Core, the association's first homegrown, client standing up to the bit of silicon. Furthermore, remembering that that feels like a notable assault, the co-processor has lain lazy for a significant time allotment. Monday, Pixel Visual Core goes to work.
Taking everything in the account—and as Google had signalled at as of now—the covered chip inside every Pixel fills a strong yet essential need. It will use its eight custom focuses, its ability to crunch 3 trillion exercises for consistently, all in the organisation of enhancing your photos look. Specifically, the images you take through outcast applications like Instagram, WhatsApp, and Snapchat.
Those are the three assistants at the Pixel Visual Core switch-flipping; since it's accessible to all designers, more will see a great many. They'll all get the powers to convey Google's HDR+ pictures, photos that rely upon a movement of post-planning traps to make photographs shot with the Pixel appear to be more balanced and comparative. Photos taken with the Pixel Camera application have started at now benefit by HDR+ powers since dispatch—that is one reason Pixel 2 earned the most imperative stamps yet given to a mobile phone by industry-standard photo rater DxOMark. Regardless, Pixel Visual Core will extend the part to the streams, reinforces, and snaps of Pixel proprietors likewise, after a revive that will take off early this week.
HDR+
To appreciate why Google would submit its direct created phone processor to a decently constrain work—not just photography, but instead HDR+ especially—it fathoms the essentialness of HDR+ to the Pixel's photo capacity. As a matter of first importance, it's not the HDR you're used to.
"HDR+ truly works shockingly in an unforeseen way," says Isaac Reynolds, wander executive for Pixel Camera. Where HDR essentially tries to unite three or so synchronous exposures for the best result, HDR+ takes up to 10 undefined underexposed shots. "We take them all and separate them into little bits, and line them over each other, and ordinary the photo together," says Reynolds, who ticks off the diminishment in disturbance and shading quality as just two of the points of interest.
That isn't just development, or if nothing else not really. HDR+ genuinely has significant focal points—, especially in Google's execution.
"HDR+ advancement is a better than average development for confusion and data protecting. This empties the uproar in the photograph," says Hervé Macudzinski, boss of DxOMark.com. "That engages Google to give a wonderful picture low-level upheaval anomalous state detail."
You can see an instance of what that suggests in the underneath when shots, with the commonplace stipulation that Google gave them, and your own particular experience may vary.