The Evolution of Storage Devices (Pt. 1)
The evolution of computer and technolgy has called for better, compact and reliable methods to store the data that is being processed on evergrowing scales every single day.
Here's us delving into the timeline of the evolution of storage devices!
1956 – IBM 350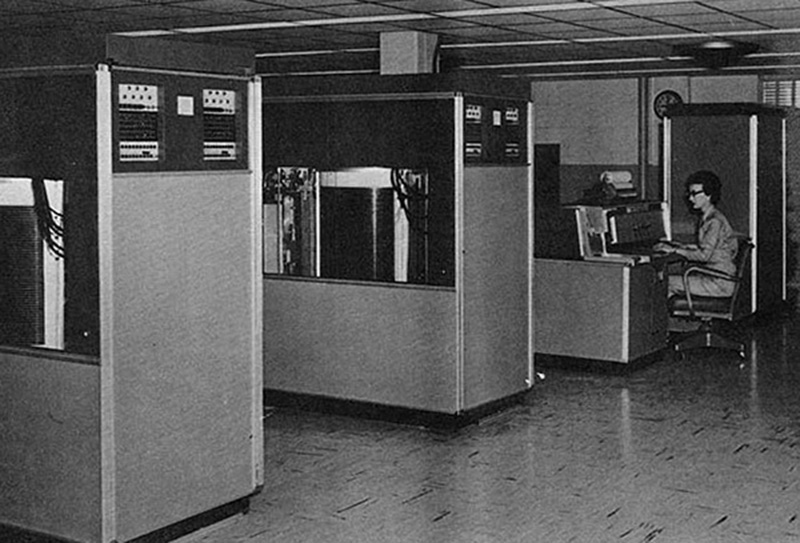 The first ever storage device was created by IBM and it was christened the IBM 350. It was the first disk drive to ever be introduced, and was about the size of a large wardrobe. It had a storage capacity of 3.75MB and could be made available on lease at $3,200 per month.
1961 – IBM 1301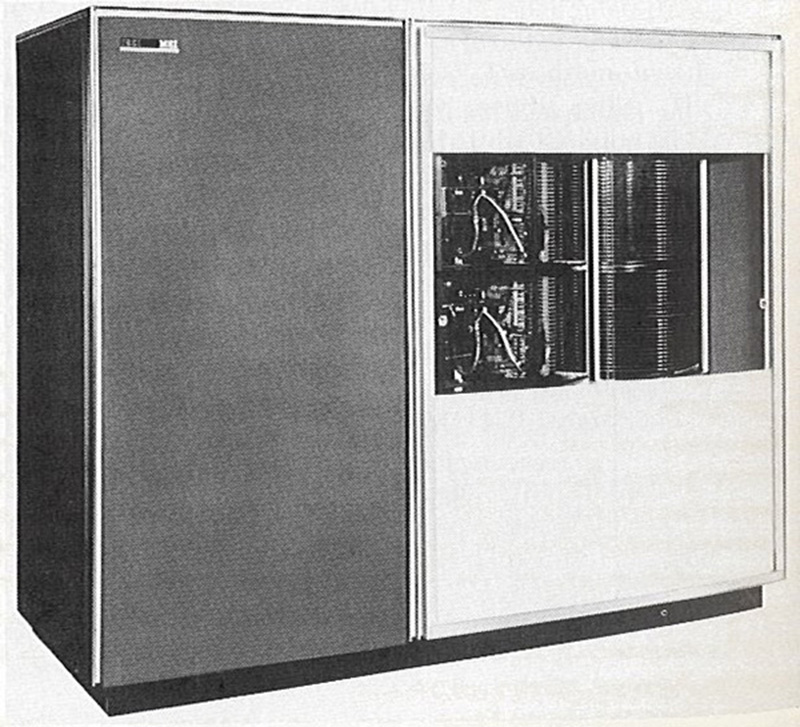 Next to be introduced was the IBM 1301, and it could store 19MB of data. The physical size of the disk (or the cupboard!), however, stayed the same. The amusing part of it was that it could use heads which were designed to float in thin air over the tracks and read data from the disks. It was available on lease for $2,100 per month or could be purchased at the hefty price of $115,500.
1962 – IBM 1311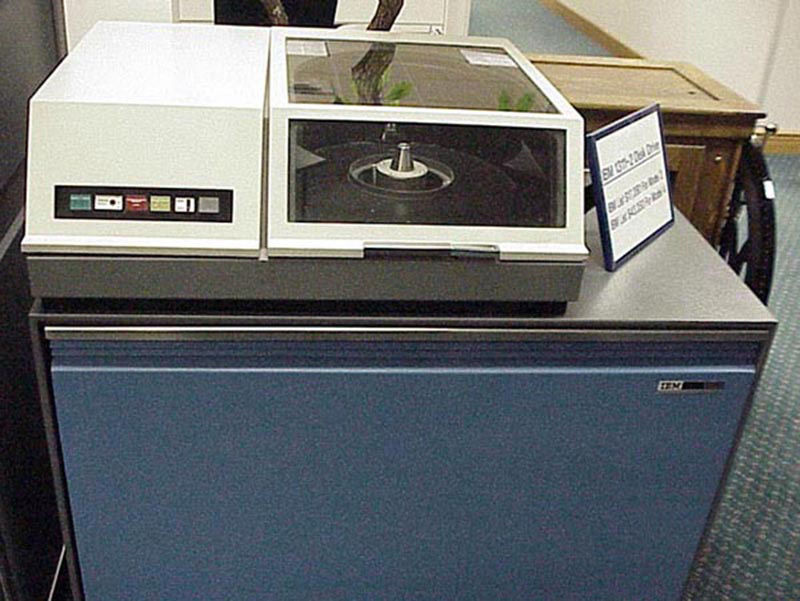 The problem of physical space had started to set in, and it was thought necessary to reduce the space occupied by these storage devices. With this, the IBM 1311 was introduced, and it was the size of a washing machine. It saved a lot of space and had better components that were better than the devices introduced before it.
This was the first hard disk drive to introduce removable disk packs, each disk pack containing about 2 million characters. It had twice the recording density than the previous version.
This disk drive had special features such as "Scan Disk", "Direct Seek", "Track Record" and "Seek Overlap".
1964 – IBM 2311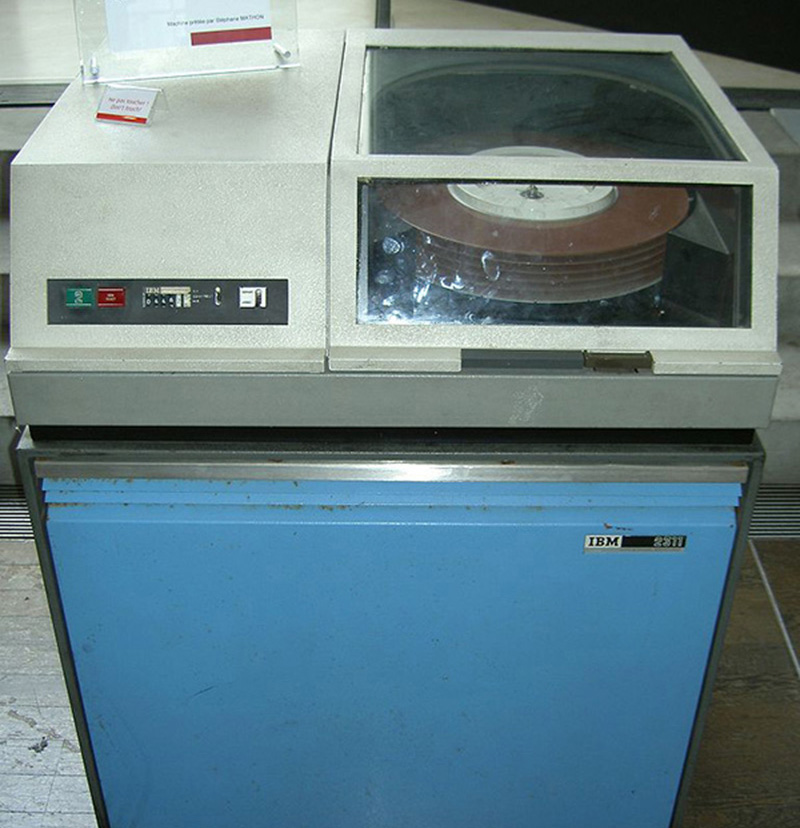 This model looked similar to the previous version, but certainly had a lot more capacity and better performance than its predecessor. This hard disk drive stored about 7.25MB of data in a single removable disk pack, and offered good data transfer rate of about 156KB/s.
So it was like a revamped version of the previous one with better capacity and slightly smaller dimensions.
1965 – IBM 2314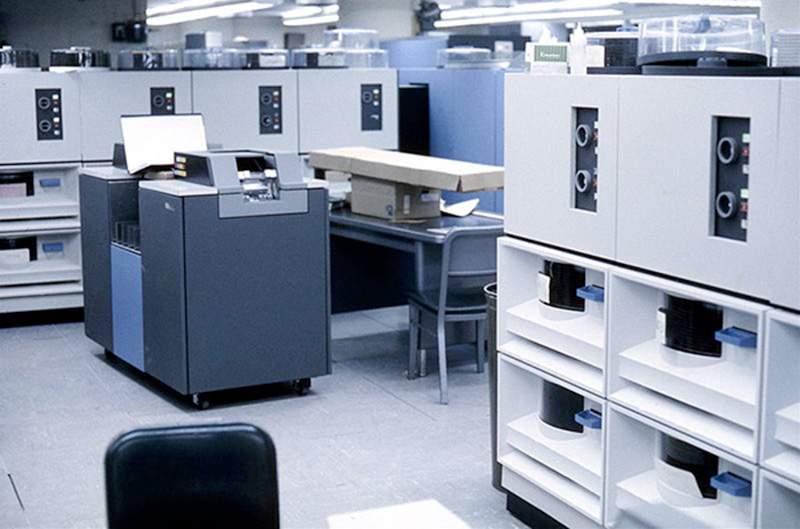 Finally a little change in the appearance, and also quite a lot of improvements too. The IBM 2314 had the capacity to store 29MB of data in a single disk pack, and of course these disk packs could be removed and added. The data rate was about doubled, from about 156KB/s to 310KB/s.
The fun fact about this hard disk drive is that, because of its appearance it was called a "Pizza Oven", and I agree with this name. So first "wardrobes", then "washing machines" and now "pizza ovens", let's see how far it gets.
1970 – IBM 3330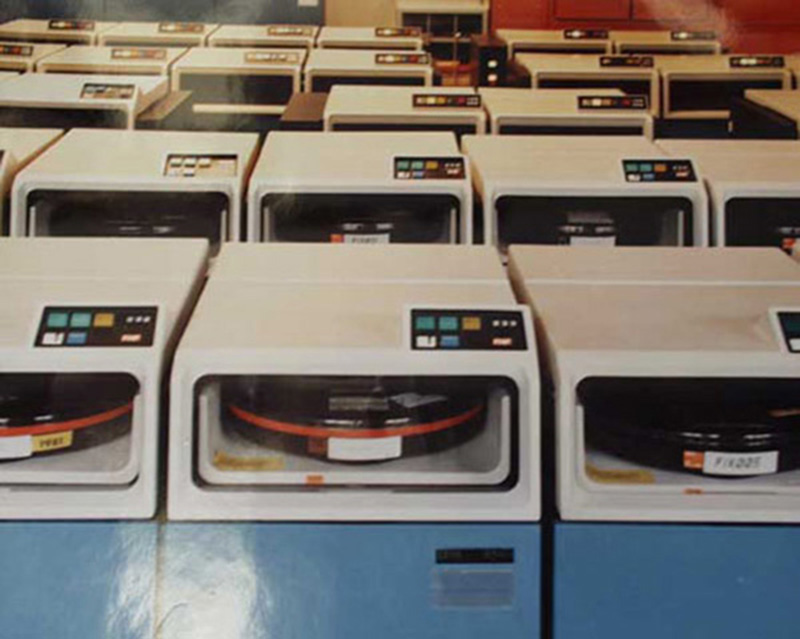 After years of development, IBM managed to pack all the components of a hard disk drive into a much smaller shell. Less physical space and portability has always been a priority for electronic devices, and thus IBM gave its customers exactly what they needed.
The IBM 3330 codenamed "Merlin", was considerably smaller than the previous model, stored about 100MB of data in each disk pack, and offered a great data transfer rate of about 806KB/s.
One of the best and most notable features of this hard disk drive was the use of error correction methods to tolerate small imperfections on the disk surface, and thus reducing costs and making them robust.
1976 – IBM 3350: Introduction of Fixed Disk Drives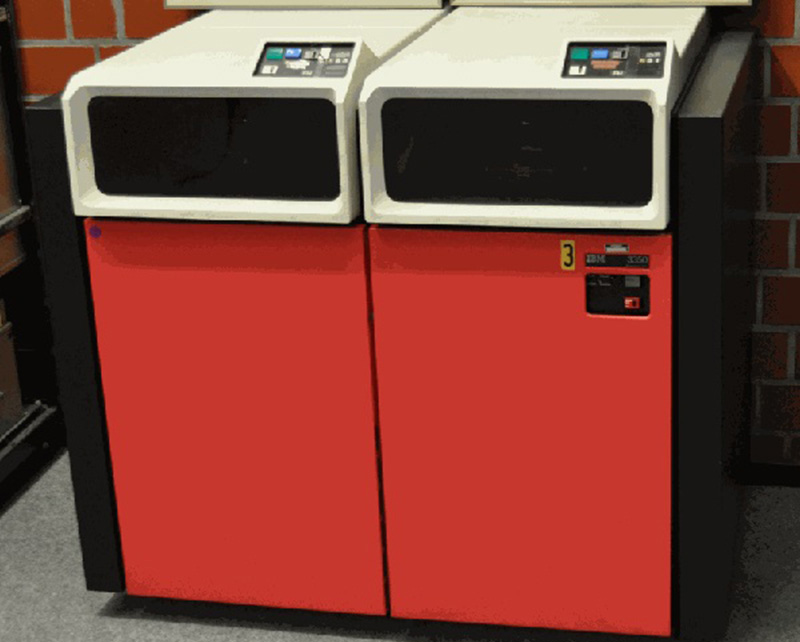 IBM introduced the first hard disk drive with non-removable disks, which were sealed inside the drive, like they are in the present drives, so this is the moment where the hard disk drives started to look like the modern disk drives.
This disk drive had the capacity to hold 317.5MB of data on each storage drive, offering a total of 635MB for storing data in the whole unit, and the data transfer rate was further increased to about 1.17MB/s.
The IBM 3350 had a price tag of about $62,500 back then, thus we can now see the trend we follow today, i.e., better performance and storage yet reduction in price.
1979 – IBM 62PC "Piccolo": The World's first 8-inch HDD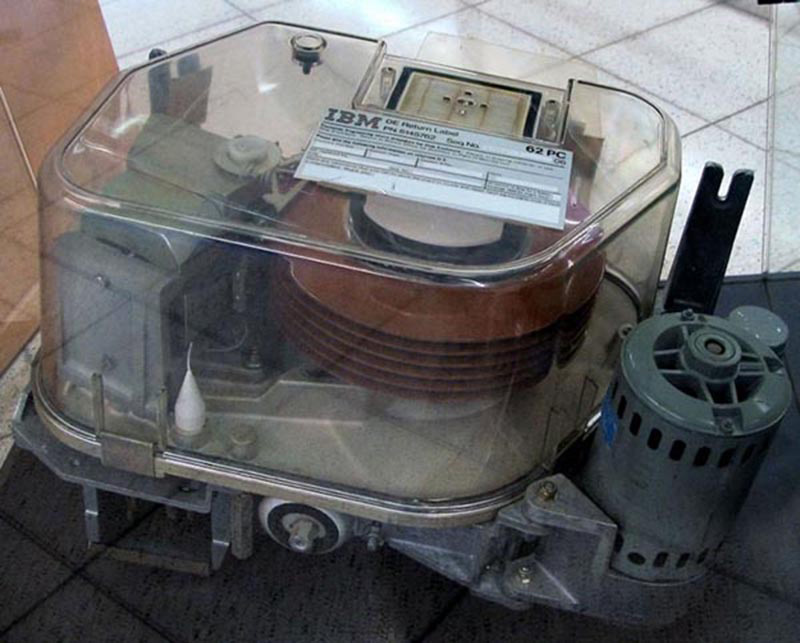 What a change in size now! From "pizza ovens" and "small trunks" to "small box" like structures. As time passed, more and more people were owning a computer and thus there was a need to make the size of hard disk drives small so as to enable people to carry data from one location to another or in other words increase portability.
The Piccolo paved the way for the creation of the small sized hard disk drives which we use today, as you can see this hard disk drive was only 8-inch long, and was a revolutionary product back then. Due to its small size, this disk drive had the capacity to hold only about 64.5MB of data in it.
So, this was the moment when those large boxes got converted into small devices, very similar to what we see and use today.
1980 – IBM 3380: The World's first gigabyte HDD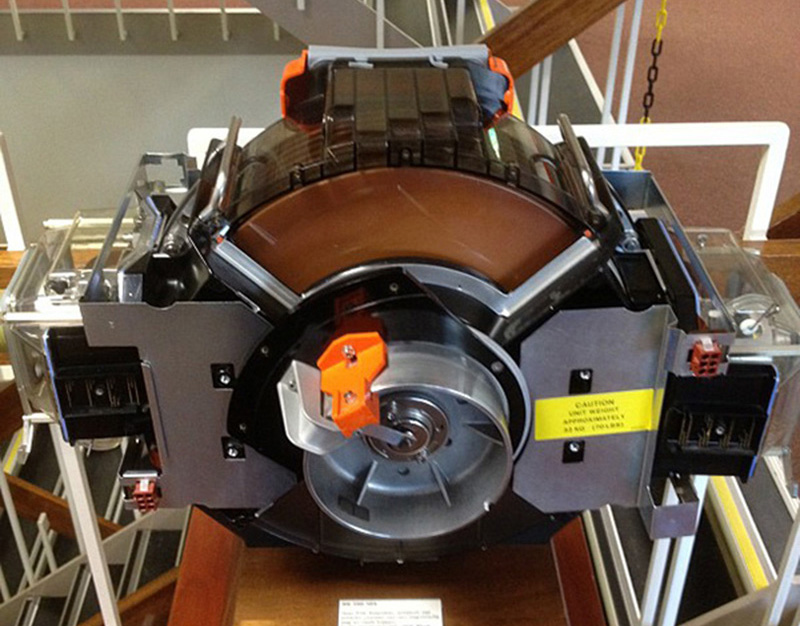 A few more years down the line, and hard disk drives were getting smaller and smaller but only a change in physical size wasn't going to satisfy the needs of the people. Developments in computer software demanded a greater capacity to hold data within the hard disk drives.
Finally in the year 1980, IBM made another innovation, the world's first gigabyte hard disk drive. It looked more like an engine, but back then it was the most powerful hard disk drive on the planet. This drive had the capacity to store about 2.52GB of data and offered data transfer speed of about 3MB/s.
This drive was about the size of an average refrigerator and was priced at about $81,000 back then. Here we see an increase in the price as compared to the previous version, but looking at the high leap in the storage capacity, the price was just fine.
1980 – Seagate ST-506: The World's first 5.25-inch HDD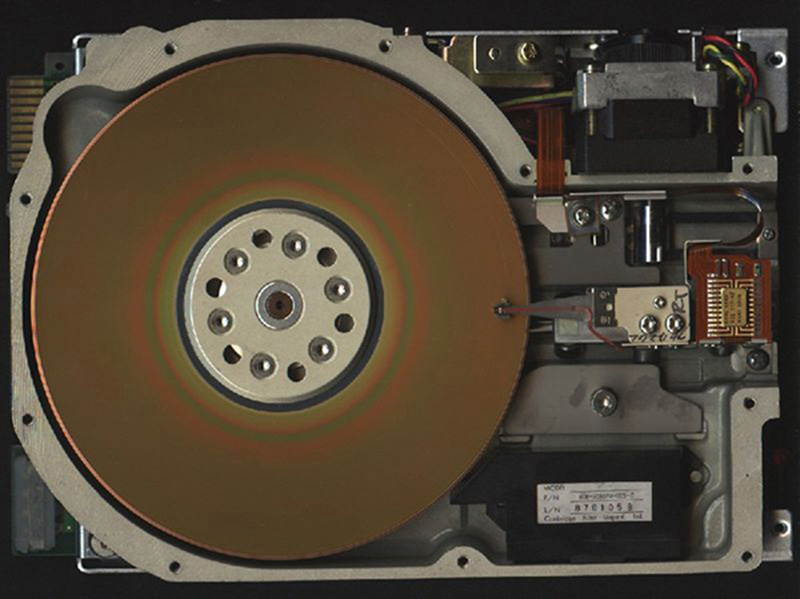 In the same year i.e., 1980, after the invention of the world's first gigabyte hard disk drive by IBM, Seagate introduced the world's first 5.25-inch hard disk drive, which was yet another step in reducing the size of disk drives and another awesome innovation. This little item could store about 5MB of data and had a price tag of $1500 at that time.
Though the capacity was very low, due to compact size of it, it was a great choice for carrying documents and other files which don't consume much space and needed to be carried from place to place.
---
Find out more about these in our next post!
Top 5 Google Products You Have Forgotten About
Living in the shadow of Gmails, Maps, Drives and Calendar must be intense. However, that is the thing that a huge number of helpful Google items do each day. We give Google's front-running applications a great deal of ink (or pixels, so to speak), and the rest a passing notice in the quick streaming waterway of news. The present best 10 pays praise to the younger sibling and sister Google items that you overlooked
Google Code Search
For the most of intrigue just to software engineers, Google Code Search is a quite unimaginable instrument for finding and perusing the innards of endless open source ventures. Utilize the lang: administrator to confine your outcomes to a specific dialect, and pursuit by designer name, record name, or remarks. Here's a look at the words "frightful hack" in PHP code—lang: PHP awful hack—and here's a scan for Javascript wrote by Gmail Macros engineer Mihai Parparita
Google Base
Effortlessly distribute and discover formulas, classifieds, get-away rentals and employment postings at Google Base, a no-site approach to get information on the web and into Google's query items. What's incredible about Base is that it offers information write particular hunt administrators. For instance, you can look formulas by fixing, or excursion rentals by area and highlights like what number of rooms, and what kind of property it is (lodge, bungalow, inn, manor, house, and so forth.)
Google Alerts
Influence your web to indexed lists to come to you with Google Alerts, email warnings that rundown the new website pages your hunt terms fly upon, continuous. Google Alerts consequently hands me Lifehacker story thoughts each morning, and it's additionally remarkable to sense of self-hunt your particular name, site title or item name, as well. To get comes about for a few terms looks in a single alarm, isolate them with a pipe (|) or join words with AND, similar to rapidly spreading fire AND "San Diego".
Google Notebook
We as a whole discover bits of website pages, statements, and pictures everywhere throughout the web we need to duplicate to an individual library, and Google Notebook is a capable method to do only that. Regardless of whether you're looking into a specific task, catching thoughts as you go over them on the web, or Getting Things Done, Notebook (particularly combined with its sidekick Firefox augmentation) is an intense, helpful apparatus.
SketchUp
Free 3-D displaying program Google SketchUp lets anybody for all intents and purposes planner their fantasy house, rebuilt kitchen, office, spaceship or high rise. Download Google SketchUp for nothing, for Mac or PC.
This was an extreme rundown to winnow down, as Google's full item list is long and immense. Indeed, despite everything we have laments about leaving Patent Search, Google Moon, and Google Mars off the rundown. Refresh: I'm especially remorseful about excluding Grand Central or Google SMS, as well.
What's your best lower-profile Google application? Yell it out in the comments below!
Disclaimer: All images are sourced from the web. No copyright infringement intended.
Top 4 Technology Trends To Watch Out in 2018
2018 will see the progression of some key innovation domains: most strikingly in the zones of virtual and enlarged reality, Artificial Intelligence (AI), the Internet of  Things (IoT), and voice-empowered talk and Chatbot cooperations, says Mpumi Nhlapo of ICT arrangements supplier, T-Systems.
These innovations will bolster off each other's improvements, making something altogether new, T-Systems said. "They will intertwine to reshape the manners by which we associate with our general surroundings, with each other, and totally adjust the idea of business," said Nhlapo.
Rise of Cryptocurrency
The underpinnings of digital currency — a disseminated leger framework called the blockchain — has a genuine place later on of innovation, paying little respect to regardless of whether the cost of Bitcoin is $0 or $50,000.
The blockchain is the decentralized heart of cryptographic money, and is a dispersed record of records which consider the confirmation of records without the requirement for an agent. While its essential use in 2017 and before was to confirm digital currency exchanges, designers are acknowledging it has utilizes outside of fund. Exchange records, or "squares" are cryptographically ensured and afterward circulated to all members.
Augmented Reality & Virtual Reality
Augmented, virtual and 'mixed' the truth are quick moving toward the pinnacle of expanded desires, with gigantic buzz and a lot of action in specialty shopper territories, for example, gaming. Be that as it may, the corporate world hasn't yet sufficiently discovered establishment to move these innovations into a place where we'll see mass selection, said T-Systems.
Assembling, Industrial and building conditions have been noteworthy early adopters of VR and AR arrangements, especially to model business forms, spacial arranging, preparing, and in addition for prototyping new items and advancements cost adequately.
The Rise of IoT
Gartner predicts quick advances in the domain of the Internet of Things (IoT), and recommends that by 2020 over 95% of new item plans including hardware will consolidate associated sensor segment.
"We are now observing IoT rising up out of the trough of thwarted expectation, as the 'genuine' discussions about norms, conventions and segments are currently going all out. We've just observed monstrous interest in the empowering framework especially in IoT systems," said Nhlapo.
Increase of Chatbots
This pattern is firmly united to the ascent of voice as a medium of engagement with innovation. "In 2018, we'll see a kept developing of voice-acknowledgment innovation, to better comprehend setting, different dialects, accents, assessment and tone.
"Voice enables us to connect with various items and gadgets all the more naturally, enabling us to multitask all the more effectively. In an inexorably complex world, this ends up critical," he said.
For more such news on trends and news, subscribe to The Tech Column today!
Top 4 Smartphones To Buy in 2018
Considering purchasing a smartphone? We have the best cell phones existing apart from everything else recorded here – with the Samsung Galaxy S8 and Samsung Galaxy S8 Plus handsets duking it out with the iPhones for the best spot. Tap the dropdown above to see the full rundown!
We've invested hours whittling the contenders down to a best 4, and we consider the influence, specs, plan and, above all, esteem for cash of every handset – thusly, this rundown will continually move as we keep a laser-center around the amount it expenses to claim these telephones.
We should get straight into it the rundown – our best telephone at this moment is the Samsung Galaxy S8, however have a peruse through our rundown to see which suits you best.
1. Samsung Galaxy S8
The Samsung Galaxy S8 is the best telephone on the planet for a couple of reasons, yet none more so than the show: it makes each other handset available look emphatically out of date.
The screen is one of the, absolute best available as yet, accompanying the lengthened, 18.5:9 resolution that extends stunningly all over the telephone, with capable shading generation and differentiation proportions that make everything look clear and fresh – in addition to it has the QHD determination that we anticipate from all the best smartphones.
The battery life, in spite of being littler than in past gadgets from Samsung, is in reality better on account of the enhanced internals and the product running things all the more productively in the backgound.
The camera is one of the absolute best available – the auto mode offers perfect, fresh and clear shots each time and joined with screen quality influences you to need to flaunt your best snaps. There's a simple to-utilize master mode too to get the best out of your snapping.
2. iPhone X
The iPhone X is the most great handset Apple has ever constructed. Ever.
You could contend that the iPhone 4 or iPhone 6 ought to have that tag, however the X (that is 'X' as in '10') speaks to something that most iPhone purchasers need: another outline, after forever and a day of a similar thing being discharged.
You know as of now this is a costly telephone, however Apple has done everything it can to legitimize that cost. It has an astonishing, very much tuned screen, and a solid camera rushed on the back.
The absence of bezel around the gadget is a monstrous flight for the brand, and losing the home catch has prompt an overhaul of iOS 11 – you may battle to progress for a day or two on the off chance that you go for this telephone, however believe us, it'll turn out to be second nature in a matter of moments.
This is the telephone to purchase on the off chance that you need to treat yourself to a top of the line telephone – some additional every month for something you truly appreciate removing from your pack or pocket is justified, despite all the trouble in the event that you can bear the cost of it.
3. OnePlus 5T
On the off chance that it's a reasonable lead you're after, look no further. The OnePlus 5T offers facial acknowledgment, a 6-inch 18:9 display, double back cameras, an exceptional metal body and the most recent power in the engine, just at some cost that serenely undermines Apple, Samsung and companions.
To accomplish the lower value point a few corners have been cut, yet the cuts aren't as extreme as you may think. There's no QHD determination show, stereo speakers, expandable capacity or champion camera, however what you do get is a profoundly skilled Android smartphone that, as a rule, beats its value section.
In case you're willing to endure a couple of little bargains then you could contend the OnePlus 5T could be much further up this rundown. One thing is without a doubt however: regarding an incentive for cash it won't disillusion.
4. Google Pixel 2 XL
An extra large screen, unadulterated Android encounter and a fantastic camera are the foundations of the Android smartphone fan's list of things to get.
The Pixel XL 2 has a broad 6-inch display that is tolerable for gaming and video playback (in spite of the fact that a couple of issues have surfaced around its review edges), and it gloats an enhanced outline over the littler Pixel 2, with slimmer bezels lodging its double forward looking speakers.
There's a lot of energy in the engine, where the most recent Snapdragon 835 chip is combined with 4GB of RAM, yet it's round the back, with the 12MP camera, where the Pixel 2 XL truly sparkles.
Photographs look incredible, and they'll please both easygoing and more genuine snappers alike.
What is your favourite one of the lot? Do let us know in the comments section below.